Customer Profile
P & V Wade Earthmoving own and operate a fleet of heavy earthmoving vehicles which are contracted to local quarries, mines and construction locations. The company also conducts maintenance of heavy vehicles for their external customers.
Application
The business is a long-term user of Almatek® 1233 and following the purchase of a new Caterpillar® 988F Loader for their fleet, the company elected to begin using Almatek® 1233 immediately following its arrival.
Challenge
To eliminate or reduce Pin & Bush replacements on their new Caterpillar® 988F loader.
Results
Following the implementation of Almatek® 1233 Mine & Quarry, the company continued to conduct scheduled maintenance as per the intervals recommended by Caterpillar®. Pin & Bush wear rates were monitored over the vehicle life however, at no point did any Pin or Bush require changing despite the continued hard-working conditions that the loader faced.
The vehicle reliably served the business and was eventually sold with just over 32,000 hours operational life recorded. Incredibly over this time frame, not a single Pin or Bush was ever replaced and all remained well within tolerance by the time the loader parted ways with the business. A true testament to the power and performance of Almatek® 1233 Mine & Quarry in heavy earthmoving applications. The company continues to use and recommend Almatek® 1233 Mine & Quarry.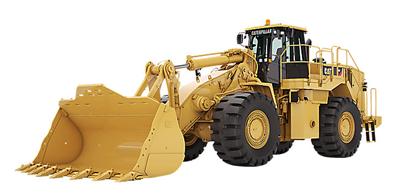 Proprietary Additives
Lubrication Engineers' additives are exclusive to LE and may only be found and used in LE's high performance lubricants. Almatek® 1233 Mine & Quarry contains the following additives:
Almasol® is a solid wear-reducing additive that is able to withstand extremely heavy loads, chemical attack and temperatures up to 1,900°F (1,038°C). It is attracted to metal surfaces, forming a microscopic layer but not building on itself or affecting clearances. Almasol® minimises metal-to-metal contact and the resulting friction, heat and wear.
Quinplex® is an impact-resistant additive that contributes to outstanding water resistance, tackiness and enhanced mechanical stability, and helps to form a barrier against corrosion.