Supreme protection for Mobile Earthmoving Fleets
Pound out resistance & 100% waterproof
Customer Profile
A large global mining company operating an underground gold mine in the North Territory of Australia.
Application
Continual short life of pins & bushes on underground Sandvik® Jumbo's, Cable Bolters and Production Solos. Typical life span on most were 2-3 weeks.
Due to the high operation demands of the mine, greasing intervals for the more than 40 pins and bushes on each were often missed. The operation of each machine results in high vibration and pounding action within the joint. Each joint is also subjected to high volumes of water. By the time maintenance teams were able to grease each point, it was common to find each joint dry and no grease lubricating the pin and bush. This resulted in high rates of wear and corrosion causing the joints to lose operational tolerance and even sieze.
Solution
The grease being used and recommended by the incumbent lubricant supplier was Castrol® Premium Heavy Duty NLGI 2 grease. Lubrication Engineers Australia recommended the use of Almatek® 1233 Mine & Quarry for the application due to its ability to withstand high shock and pound out as well as being 100% waterproof. The grease also contains Almasol® and Quinplex® Lubrication Engineers' proprietary additives found and used in LE's high performance lubricants.
Results
Trials were conducted using two machines; one operating the existing Castrol grease and the other using Almatek® 1233 Mine & Quarry. Operational hours and wear rates were monitored, and failures recorded for each.
During the 12-week trial, the machine using the existing Castrol grease had a total of 16 pins and bushes replaced whilst the machine using Almatek® 1233 Mine & Quarry had only replaced 2.
Following these results and calculations the savings of over $200'000 per year in savings of parts for the fleet, the mine immediately changed over to Almatek® 1233 Mine & Quarry grease for all underground mobile equipment.
The mine has now extended trials for the surface fleet and similar results are expected.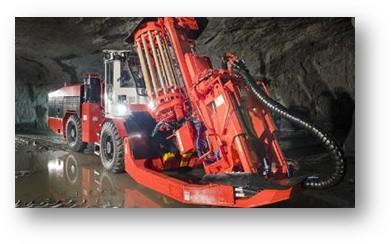 Proprietary Additives
Lubrication Engineers' additives are exclusive to LE and may only be found and used in LE's high performance lubricants. Almatek® 1233 Mine & Quarry contains the following additives:
Almasol® is a solid wear-reducing additive that is able to withstand extremely heavy loads, chemical attack and temperatures up to 1,900°F (1,038°C). It is attracted to metal surfaces, forming a microscopic layer but not building on itself or affecting clearances. Almasol® minimises metal-to-metal contact and the resulting friction, heat and wear.
Quinplex® is an impact-resistant additive that contributes to outstanding water resistance, tackiness and enhanced mechanical stability, and helps to form a barrier against corrosion.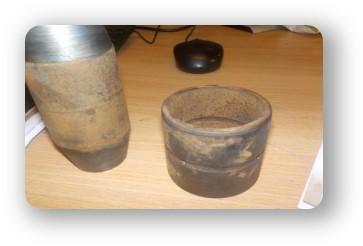 Typical DPU Pin & Bush after four weeks of service
where the grease has pushed out allowing water
and contamination to enter causing pre-mature
wear and failure .