Water in hydraulic, lubrication, power transmission and dielectric fluids adversely affects fluid performance and is a threat to system reliability.
Pall Vacuum Dehydration Purifiers, utilise Mass Transfer to remove 100% of free water and as much as 90% of dissolved water but will also remove 100% of free and entrained gasses and up to 80% of dissolved gasses.
Vacuum Dehydration is simply the most effective method of water removal at minimum cost and ease of use.
To achieve optimum performance of specialist equipment, planned maintenance and formalised service procedures should be employed and undertaken by suitably qualified personnel.
In order to meet this requirement, Lubrication Engineers Pty Ltd can now provide your complete purifier service requirements, for all Pall models and in a number of different formats to suit each customer's specific needs.
Purifier Services are available for the following products:
HNP006 Series
HNP021 Series
HNP022 Series
HNP073 Series
HNP074 Series
HLP6 Series
HLP22 Series
Other more specialised models not listed can also be accommodated after consultation with Lubrication Engineers Service team.
Water in Oil - Based on 1,000 Litre Bulk Tank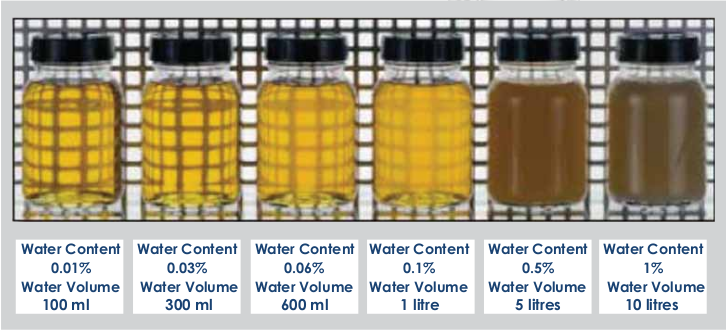 Recommended at intervals of 2000 operating hours, we understand that not every company uses their purifier in the same manner. Part of our offer includes a pre-service check list, which allows us to establish any exiting operating issues, but also the likelihood of service frequency.
Standard Purifier Servicing includes:
Full functional / operational safety test
Fault diagnosis
Test, supply and replacement of required service components
Adjust equipment settings as necessary
Inspection of all fittings
Test, supply and replacement of any defective parts (on approval from customer)
Return to work operation
Document and report on all work completed
Lubrication Engineering's highly experienced service team are fully equipped to efficiently get your purifier serviced and back in operation, or we can undertake more robust repair/overhaul, of units that may have not been serviced on a regular basis.
Contact Lubrication Engineering on 1800 676 699 or sales@lubeng.com.au