Safe, Accurate, Hands Free Sampling of In-Service Oils & Coolants
The SmartOil™ M is a fully automated fluid sampling device that enables the LIVE collection of fluid samples with NO human interaction with live machinery. The SAFE, hands free sampling of in service fluids such as such as engine oils and hydraulic fluids from operating equipment.
How Does it Work?
All SmartOil™ M automated fluid samplers feature sensors that monitor oil pressure and temperature.
Each unit is pre-programmed with the parameters of the oil to be sampled.
Using proprietary algorithms, the integrated edge processor contained within the unit calculates the required time for the sample valve to remain open to ensure a 100ml sample is taken every time.
Each unit is programmed by the user on the required sample interval (Operating hours or Calendar date).
Problems We are Solving with the SmartOil™ M Solution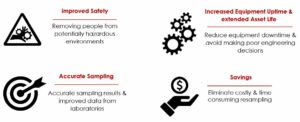 Features
M1
The M1 is the entry level product within the SmartOil™ M range. Available in standard industrial format or for harsh operational environments such as mining.
Hands-free LIVE sample collection of in-service fluids such as engine oils, coolants, gearbox, and hydraulic oils
Bluetooth® remote sample activation via a smart device and the free Smartoil™ App
User-programmable sample intervals and fluid type (Operational Hours or Calendar Date)
Fully automated single bottle sample collection
Localised manual sample button
Side, rear, or combination fluid path
Bottle full indicator (LED)
24VDC power supply
Multiple compliance approvals
Aluminium construction
IP67 Environmental rating
Standard pressure range up to 6.9 Bar (100 psi) operating pressure rating
Approved Australian telecommunications device
Fully upgradable